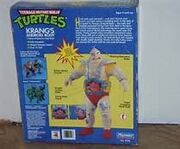 Playmates released a Krang toy based on character over 11'.
Hold onto your stomach! The bubbling-brain, Krang, is in the belly of the beast! This bald, bad-bellied behemoth of the Foot features techno-electro circuitry, a hinged-stomach hatch, rotating brainwave radar and a riveting robotic grimace. Not to mention he's over 11" tall! This fully articulated towering terror gives Krang real robotic power. And if that's not enough, we've thrown the original Krang figure in as a bonus!
The Original figure dosen't have blue veins.